---




December, 2012. Bella did great with the surgery for a luxating patella, according to her foster mom. She was in a cast for three days following the surgery. The vet shared with her foster mom that he wasn't sure if this surgery would work because there was a lot of damage around the knee and he had a very hard time keeping the knee in place while putting a pin in. She has compensated for so long with a luxating patella that she has learned to function with the leg.
We would like to thank Lifeline 4 Paws for helping YTNR with the expenses associated with this surgery. We are so appreciative of your help and is does Bella.




---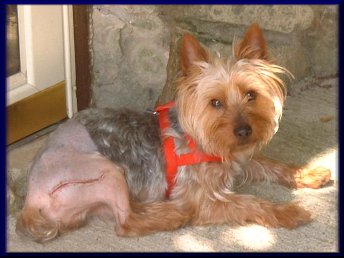 This is Dillon, he just had surgery on his Legg Perthes three days before this photo.
He is doing pretty well considering. His hip is swollen, but he has already started his therapy, he does not like it at all. As soon as the surgery area heals we will start water therapy.
He is a real doll. Thank you again for letting us have the surgery on Dillon. I know it is hard for you so many times making determination on all the dogs that come our way.
I just thank God and you for making this possible. He deserves a good chance at a pain free wonderful life.




---

11/2004 Starlette,
A California breeder sold Startlette and a male yorkie for $5000 as a breeding pair. At 6 months of age Starlette was diagnosed with bilateral legg perthes, this is a hereditary disease her vet recommended she remove her from her breeding program.

The Breeder was notified and refused to help in any way and said that she only guaranteed her dogs for three days after they left her home. She denied any responsibility or help for Scarlette for this hereditary problem.
Scarlette was surrendered to Yorkshire Terrier National Rescue with all of her papers and will start undergoing surgery in about a week.

Any donations to help with these expensive surgery can be made via our Pay Pal account or by sending a check to
YTNR
1065 Lewis Rd
Chapmansboro, TN 37035




The Yorkshire Terrier National Rescue Inc. is run solely on private donations and fund raising efforts made by people like you who love this Breed. We appreciate your support and are able to do a little more for the more needy cases that come our way because of your help.


We are a non profit 501 c (3) charitable organization.









©2016 / LeggPerthes.Com
All graphics and information on these pages belong solely to YTNR.
Please don't copy or remove anything from these pages.