Links to our other sites:
Livershunt.com
Collapsing Trachea
Dinks Memorial Fund
Puppymills.com
Legg Perthes
Yorkie Encephalitis
Join our AngelsandSupporters list!
Sign up for Yorkie Spice List
Yorkie Spice Pages



©2016 / YTNR
All graphics and information on these pages belong solely to YTNR.
Please don't copy or remove anything from these pages.
Web design by Laura Graphic Creations
2010 SMOKY AWARD Winner
---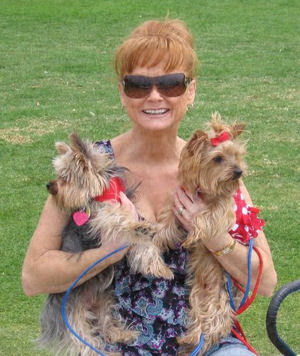 Zoe
Every dog nominated is a winner in its own right, but after much deliberation the committee arrived at their decision in awarding the 2010 Smoky Award to the dog whose life was most improved after finding its new forever home.
Zoe, A Love Story
By Karen Rippy


I had been looking for Yorkie as a playmate for my lovely Bailey. I had made the decision to adopt a rescue as I wanted a special baby who was in dire need of loving and pampering. I had been searching for months and then I happened upon Zoe.
The first time I saw this special angel she was being sold on Craigslist for $50.00. I contacted the owner via the website to find out what her story was. Her owner told me she had been keeping Zoe in a crate for up to 18 hours a day; she was a divorced mother with 2 full time jobs. She said Zoe was a barker and she was being cited for noise so she had to lock her up. She said Zoe had such horrible allergies; she would bite herself until she bled and screamed in pain. She had most of her teeth pulled out with only 6 left. The woman didn't have the time or money to look after her properly, let alone deal with her medical needs. I offered to pay for any immediate medical needs Zoe had, as long as she met me at my Vets office, fearing she would just take my money and not treat the dog. She never showed up. I contacted the owner again and begged her to give Zoe to Yorkie Rescue instead of selling her, as I was terrified about what would happen to Zoe being sold on a website as unsuitable as Craigslist. I told her I would send her the $50.00 if she surrendered her instead.
I called the owner a couple of days later to follow up about Zoe. I had decided to take her myself. At this point I couldn't get the little darling out of my mind. The owner was furious with me; she had taken my advice, calling Yorkie Rescue. Yorkie Rescue had demanded Zoe be turned over, right away, to them or she could be charged with abuse. I was very relieved that Zoe was being put in a better environment; however I had already fallen in love with her.
I thought about Zoe night and day. I hoped and prayed she would find a loving home and she would be treated like the special angel I knew she was. My heart wasn't into looking for another Yorkie now. I was upset with myself that I hadn't just taken her when I had the chance….and then it all changed.
I had signed up for a site called Pet finders when I had first started looking for a playmate for Bailey 6 months earlier. I got an email from them and when I opened it, there was Zoe's picture staring at me. I was so excited I contacted Yorkie Rescue right away. I filled out the application and was contacted by Carla that very afternoon. Four days later I was contacted by Zoe's foster mom and we set up a home visit.
When they brought Zoe to my home it was a bond made in heaven. Bailey welcomed her and she made herself right at home. We adopted Zoe that day. Our precious baby's journey was over. I made a promise to Zoe that day; she had found her forever home. She would never be caged again. She was now going to be the pampered princess she so rightly deserved to be.
Zoe is now a happy little girl. We changed her food to a premium quality and she no longer scratches and bleeds. She almost never barks. She runs the house and plays, something she had to be taught to do. She is fully potty trained and has never had an accident. The vet says she has luxating patellas in her hind legs but you cannot tell.
My vet says they are not bothering her and I will be dealing with that once it becomes a problem. She is always happy and loves nothing more than to follow me around the house or to sit under my desk in my den in her comfy little bed. At night my husband and I have to make room for the Yorkies as they own our bed.
Recently we took them to California for a week long getaway. They loved running on the beach getting all kinds of attention from everyone. Zoe and Bailey loved riding in their new stroller. You would never know Zoe had not been in our family from the very beginning. She was a perfect little girl while we traveled all over California. We found she loves car rides and loves to stand up in her car seat and look out the window at the cars going by.
I cannot put into words how rewarding it is to rescue an animal. I feel they know and are so appreciative for being saved. Every single day I look at her and think how lucky we are to have her in our lives. Thank you Zoe, my precious little girl, for showing me how much love a rescued animal has to give.