Links to our other sites:
Livershunt.com
Collapsing Trachea
Dinks Memorial Fund
Puppymills.com
Legg Perthes
Yorkie Encephalitis
Join our AngelsandSupporters list!
Sign up for Yorkie Spice List
Yorkie Spice Pages



©2017 / YTNR
All graphics and information on these pages belong solely to YTNR.
Please don't copy or remove anything from these pages.
Web design by Laura Graphic Creations
Kodak's Special Story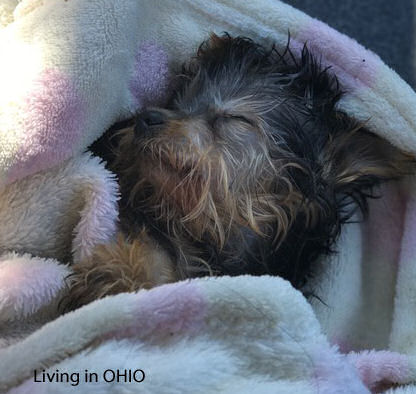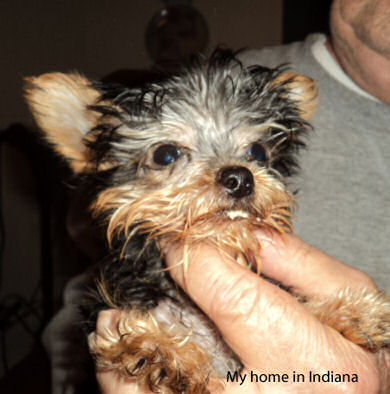 Update May 12, 2017:

Precious Little Kodak is doing much better, he is now eating well and has started on kibble for the first time. When he first came to YTNR he wouldnít drink water from a dish, now he is drinking from a dish. He does not have to be fed every 2 hours anymore. It has been small steps with this little man. Kodak now weighs 1 pound 10.4 ounces up from 1 pound 3 ounces when he first came to his foster mom. He is much more alert, and moving around the x-pen more and more. I tried to trim his ears after his bath and boy did he scream, he didnít like that at all. Did the best I could with this little wiggle worm. Love him he has taken my heart. Soon as he can be fasted safely he will have his bile acid test to see if he is a liver shunt baby.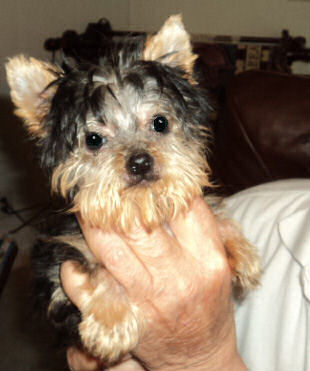 May 2017

Hi everyone my name is Kodak, I am 17 weeks old and weigh 1 lb. 3 oz. As you can see in my picture I not much bigger than a saucer. My mom bought me from a puppy mill person (this person says no, but we know different) I was very sick when I came to my new mom. She was beside herself and called the breeder to let her know how sick I was, she would not give my new mom her money back and offered her another puppy. I glad she didnít send me back to her, because I was told sometimes they would put me to sleep forever and I want to live. To make a very long story short my new mom took me to an emergency Vet Clinic. They think I have a liver shunt and one vet said I should be put down, thank you mom for not listening to him/her. Because the liver shunt surgery is so expensive she knew she could not afford to save me. Mom found YTNR to see if they could help, and guess what they said yes. I lived in Ohio, and my new mom lives in Indiana, so she drove to meet my mom in Ohio and brought me back to Indiana. She had to pull off the road to feed me, you see I need to be fed every two hours. My mom very sad to let me go because she loved me so much even though she only had me for 8 days. She just wanted what was best for me isnít that wonderful.

I have been with my foster mom for 5 days and I am doing better I have gained about 3 Ĺ oz. with all this feeding and special food. When I hear her alarm go off in the night time I wake up because I know food is coming. I have something called parasites that we are trying to rid me of (nasty) donít want them. It will be a while until I get a bile acid test to see if I am liver shunt. In the mean time I need to get much better and put on more weight so I am strong enough for the surgery if needed. The surgery cost is $2500 to $3000.
In my foster home there are 7 other ones just like me only not sick, this is something so different for me. I canít be out with them right now because I am to tiny, canít wait till I am big enough to run with the big boys and girls. My foster mom told me how much she loves me and gives me yukky kisses all the time. I want to yell please stop (but secretly I like it, donít tell her!
Thank you to YTNR for giving me a chance to have a happy life.
Any donations to help pay for her medical will allow us to help another dog in need.


You may donate money here to help replenish funds for future Surgeries:


or mail a check to:
Yorkshire Terrier National Rescue, Inc.
Livershunt Fund
c/o Mary Elizabeth Dugmore
1065 Lewis Road
Chapmansboro, TN 37035


We appreciate any help you can offer so that we can continue helping these little dogs!