Links to our other sites:
Livershunt.com
Collapsing Trachea
Dinks Memorial Fund
Puppymills.com
Legg Perthes
Yorkie Encephalitis
Join our AngelsandSupporters list!
Sign up for Yorkie Spice List
Yorkie Spice Pages



©2017 / YTNR
All graphics and information on these pages belong solely to YTNR.
Please don't copy or remove anything from these pages.
Web design by Laura Graphic Creations
Nugget's Special Story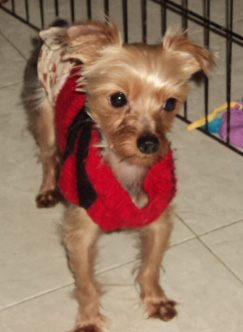 Update on Nugget: April 2017

Nugget has had his Liver Shunt Surgery and is doing very well. His foster mom has spoiled him to the point where she is hand feeding him and, if she leaves the room she is in he starts to cry and howl until she comes to get his stroller and takes him with her while she does her work. Way to go Barbara, he is just too cute and precious not to spoil.
In about 3 months he will be taken to have his bile acids checked to see if the surgery was successful. Please keep little Golden Nugget in your prayers as he starts to heal and feel better. His surgery was $2700, if you can help with any donation it would be greatly appreciated. Thank everyone!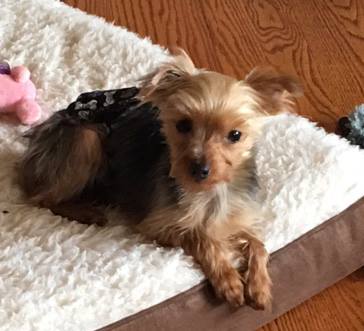 Dec. 2016
New to YTNR, meet the little golden Nugget. Nuggetís life has not been a good one, he is three years old and weighs 3.25 pounds. Donít know too much about the whole three years, Nugget was one of 5 Yorkies living in a family unit. One night while the father was off on a trip for several days his wife had a stroke and passed away in the night. We don't know how long the five dogs went without food or care. Two of the five Yorkies didnít make it, the other three were taken to a shelter. They were matted, covered in pee and feces, they all were bathed and shaved down. The lady that saved Nugget from the shelter took him to the Vet for shots and also knew there was something not right with him. That Vet said he would be fine after he was neutered. The new mom was not happy with what the Vet said and went to another for a second opinion. Nugget has been diagnosed with a Liver Shunt. Miracles do happen; the Vet she went to was one of our volunteerís Vet. Knowing how expensive Liver Shunt surgery is the new mom said she could not afford to have him fixed; she loved him and wanted to do the right thing for him. The vet called our volunteer to see if we could save him, Nugget is now in the loving hands of our volunteer. He will be transported to Tennessee from Indiana soon as possible.
If you can find it in your heart to help us save this beautiful little boy would you consider a donation. no amount is too small. He will be getting Liver Shunt surgery and our HOPE is that after he recovers he will find a family to love. We will keep you updated on his progress; after surgery we wait approximately 3 months and recheck his Bile acid. If all is good, our little Nugget will be up for adoption, just waiting for YOU to enjoy a lifetime of love. Remember, he was shaved by the shelter, this baby is just going to be gorgeous when his hair starts to come in.



Any donations to help pay for his medical will allow us to help another dog in need.


You may donate money here to help replenish funds for future Surgeries:


or mail a check to:
Yorkshire Terrier National Rescue, Inc.
Livershunt Fund
c/o Mary Elizabeth Dugmore
1065 Lewis Road
Chapmansboro, TN 37035


We appreciate any help you can offer so that we can continue helping these little dogs!