Links to our other sites:
Livershunt.com
Collapsing Trachea
Dinks Memorial Fund
Puppymills.com
Legg Perthes
Yorkie Encephalitis
Join our AngelsandSupporters list!
Sign up for Yorkie Spice List
Yorkie Spice Pages



©2018 / YTNR
All graphics and information on these pages belong solely to YTNR.
Please don't copy or remove anything from these pages.
Web design by Laura Graphic Creations
Teddy's Special Story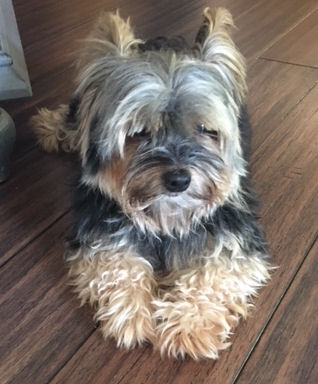 November 21, 2017:

Teddy was surrendered to YTNR because it was thought he had a Liver Shunt and his owner could not afford the surgery. It was determined by the University of Tennessee (UT) after having a scintigraphy he didn't have a Liver Shunt.
Teddy's current assessment and recommendations from the University of Tennessee :
His liver enzymes show evidence of on-going cellular damage since his last visit. His abdominal ultrasound confirmed our previous suspicion he likely does not have a gallbladder. The gallbladder is responsible for holding important enzymes (bile) used in the break down and processing of food in the intestines. Without having storage, he is constantly producing bile that is going into his intestinal tract even when it is inappropriate to do so in the absence of food stimulation. This may be part of his issue resulting in chronic inflammation of the live tissues.
At this time UT is recommends pursuing a surgical liver biopsy. This can be done Laparoscopically at UT. Also can be done as an exploratory abdominal surgery with a regular veterinarian. Before the liver biopsy or any surgery can be done, Teddy also has an abscessed tooth that has to be removed and infection under control before any surgery can be performed. $550 to $650 for the abscessed Tooth.
There is the strong possibility we will be doing the liver biopsy in the future. To date YTNR has spent $2188.40 to get Teddy to a healthier life. Teddy is only 5 years old and is the sweetest little boy he deserves a chance at having a normal life.
If you can find it in your heart to donate to Teddy's continuing medical expenses it would be greatly appreciated by YTNR and sweet little Teddy. Help us help Teddy!
Any donations to help pay for his medical will allow us to help another dog in need.


You may donate money here to help replenish funds for future Surgeries:
Contributions for additional medical expenses are welcomed and appreciated. You may make a donation to Yorkshire Terrier National Rescue her by Paypal


or mail a check to:
Yorkshire Terrier National Rescue, Inc.
c/o Mary Elizabeth Dugmore
1065 Lewis Road
Chapmansboro, TN 37035