Links to our other sites:
Livershunt.com
Collapsing Trachea
Dinks Memorial Fund
Puppymills.com
Legg Perthes
Yorkie Encephalitis
Join our AngelsandSupporters list!
Sign up for Yorkie Spice List
Yorkie Spice Pages



©2017 / YTNR
All graphics and information on these pages belong solely to YTNR.
Please don't copy or remove anything from these pages.
Web design by Laura Graphic Creations
Looking for a new Home...
To rescue a Yorkie, a minimum donation to Yorkshire Terrier National Rescue is required based upon on the age and condition of the dog and medical expenses incurred beginning at $150 plus a $25 fee for Microchipping. Each dog is Microchipped before going to it's new home. Read about our Microchip Policy here.

If you are interested in a Yorkie that is not in your home state, you may still send an inquiry, however, every effort is first made to place the dogs locally, however in some circumstances we do allow the adopted families to come pick the dogs from their foster home.

We tend to have more people willing to rescue our Yorkies than we have dogs available. While this may mean that you may have to wait a considerable amount of time before a rescue becomes available, it is the best possible situation for our Yorkies needing new "forever" homes. You must fill out the form to be put on the waiting list, and someone in your area will contact you.

Thank you, Mary Elizabeth Dugmore

Come see our Special Needs Dogs here. These dogs need extra help. Any donation you can make will help us help little dogs like this needing extreme emergency care.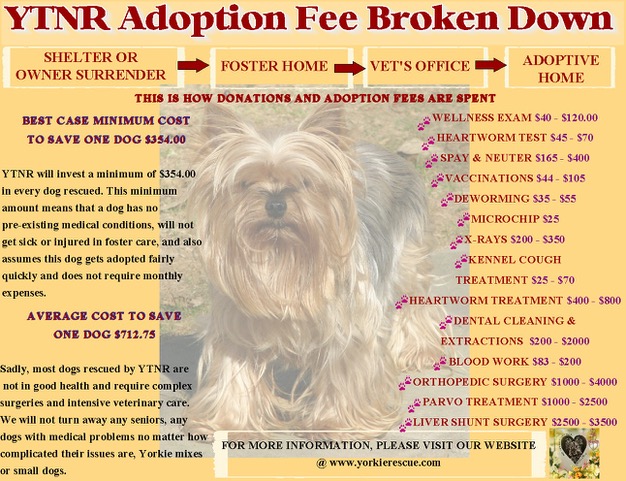 Available Rescue's Below:

Southern California

Lou / Adoption donation is $150

March 2017
This pretty little boy is Lou. He was discarded with Paddywak in a box at the front door of a high kill shelter. Apparently they had exhausted their use at stud in a puppy mill. We went to rescue them but Lou had been adopted the day before. Reading Paddywak's story you will know their history. Later I got an email from the woman who adopted Lou to tell me she had him. We had met before thru the rescue. After about 6 months she called me and said she felt badly for him because he missed her so much when she worked and wanted her attention all the rest of the day and night. He was so needy for the love and affection he discovered so late in life at 10 years. She felt he would be better off with someone who could be there to love him all the time.


He is here now with his brother, sharing my lap and snuggling close in bed. Lou is a delightful little boy at 5.5 lbs., but with a big appetite. He, too lost all his teeth from poor care so he eats soft food and small kibble. He is forever your companion, in your lap or by your feet. He also was debarked but left with a raspy voice that he uses to ďtalkĒ to you when he wants something. Lou is at least 11 years old and has a heart condition. You wouldnít know he was ill because he wants to be a part of all things and has responded well to his medication. Lou is a little sweetheart and always gets admiring compliments.....just naturally the first to get attention. However, he knows who he belongs to and is very loyal. The first day here he stayed in his little doggie house missing his mama. The second day he went exploring and by the next day had become foster momís biggest fan. Dogs always make one feel special and Lou is no exception !
He is neutered, micro chipped, fully vaccinated and heartworm tested. He takes Lasik medication. Adoption donation is $150, includes microchip.



Nicky & Rocky / Adoption donation is $700

November 2016
Nicky and Rocky are two homebody buddies. They are not brothers, but love each other even more than brothers if that is possible, so we wonít separate them. Both little guys are 7 years old. Rocky is the bigger brother at 10 lbs. Nicky is little bro at 8 lbs. They havenít been out in the world much, but foster mom says that they get along well with other dogs and are a delight to have in the home. These cuties have been brought up to date on their vaccinations, been heart worm and fecal tested ( negative) and were given a nice going over by the Vet as well. The exam and blood work show these guys to be healthy little tykes. Both boys had full dental cleanings so they are more than ready to find a brand new furever home for the holidays. Please fill out an application now if you are looking for a double dose of unconditional love and affection. Adoption donation is $700.00, including microchips.


Paddywak / Adoption donation is $250

May 2016
Paddywak came to us from a high kill shelter in L.A. He seemed so very small and compliant, not especially reactive for an 11 year old boy. He had never been nuetered and his breath could knock you over from bad teeth long uncared for. When he was placed in the home among the greeting family of yorkies he seemed ready to do his job which seemed to be mounting any willing volunteers. There were none and he was quickly rebuffed and soon avoided. Paddywak had to learn a new way of life. From his reaction to things this little boy had never been talked to, loved or played with by a human and apparently was only bred to reproduce. Housetraining was a puzzle to him and affection quite foreign.


Today this little boy is a new "person". He has had all his shots, neutered and fresh breath. His teeth cleaning really meant removing rotted teeth that didn't even bleed.....there was only infection left in the gums. He is healing, happy and attached at the lap. Sit down and he becomes part of you, move to the next room and he is by your feet. Bedtime is the best time because then he is snuggled up next to you in bed. Life has never been so good ! He is cautious with strangers but always gentle. When the others bark at imagined bad mailmen and other dangers Paddywak joins in but nothing comes out. Wherever he lived before they made sure he didn't complain so they had him debarked.
Little guy, big love now. He is ready for his best home ever! Adoption Donation is $250, includes microchip.


Northern California




Shania / Adoption donation $550

August 2017
Shania: this little female is a Yorkie/Pomeranian mix. She is 3 years old and weighs 9 1/2 pounds. Shania is a shy girl that does best in a quiet home with maybe one other dog. She is submissive, so she doesn't mind if the other dog is a bossy one. Shania is good on a leash, loves to snuggle and rides in the car well. She uses a doggy door and is also learning to wait until she is let out into the yard when there isn't a dog door.


Shania is microchipped, fully vaccinated, heart worm and fecal tested (negative). She also had her teeth cleaned and was spayed recently. Her blood panel showed her to be in good health. If Shania sounds like the pup you have been looking for and you can commit to her for her lifetime, please put her name on your application to adopt. Adoption donation is $550.00, includes Microchip.
Fill out an Application now!





Daisy / Adoption donation $600

June 2017
Daisy is about 10 years old and weighs 10 pounds. She used to spend her days and nights in a kennel nursing her latest litter of pups. That was her job - to produce puppies to sell. She is now retired from that life and is learning the joys of being a companion instead of a commodity. Daisy is super friendly and loving. She is smart too. She will go out the doggy door to do her business, but still needs reinforcement to not forget and potty inside. She loves to go where you go and never met an animal or person she didn't like. She is spayed, had a complete dental cleaning, she has been heartworm and fecal tested for parasites. Daisy is also up to date on her vaccinations and has been microchipped. Please give Daisy the sparkle she needs to live her true golden years as she was always meant to. Adoption donation is $600.00, includes microchip.


Fill out an Application now!





Ella / Adoption donation $700

May 2017
Meet Ella! She is ready to meet you. She loves people and will plant her self right in your lap on on your feet if you're standing up. Ella is 5 years old and weighs 10 pounds. She is a former breeding dog. Ella has had her teeth cleaned, her vaccinations updated and she is microchipped. We had a blood panel done ( all good!) and her Fecal parasite and Heartworm tests were negative. Ella has a natural tail. She doesn't mind other dogs, but has an alpha personality so make sure any other dogs in the home are prepared to become Queen Ella's subjects. Ella is not used to being a pet, so she will have a transisition time with her new family learning proper doggie behavior in a home. She is smart and loving and truly wants to please her people.


Fill out an adoption application now. Adoption donation is $700.00, includes microchip,
Fill out an Application now!


Kentucky


Fill out an Application now!


Chloe / Adoption donation is $800

July 2017
This is Chloe. She came to us the end of May from an animal shelter that could not treat her injuries. She had a broken pelvis on her right side and dislocated left hip. She could barely move and would cry out in pain when she tried. Chloe had surgery to place a plate on her pelvis so it would heal properly and she had a femoral head ostectomy (FHO) on her left hip. Now, after 8 weeks of rest and healing, she is loving life again and looking for a family to call her own.


Chloe is approximately 5 years old and weighs 8.5 pounds. She is a very sweet cuddle bug and can be quite funny with some of her antics. She is cautious of new people but once you get her stamp of approval she will shower you with kisses and soak up all the affection she can get. Chloe gets along well with other dogs and cats. She does not like thunderstorms. Chloe has been vaccinated, spayed, micro-chipped and is heartworm negative. If you would like to add Miss Chloe to your family and give her the wonderful life she deserves, please fill out an adoption application and be sure to put her name on it. Adoption donation is $800.00, includes Microchip.


Nevada


Fill out an Application now!


Batman / Adoption donation is $550

June 2017
Meet Batman!! He is a sweet 3 year old Yorkie. He weighs 10 lbs., but the vet recommended he lose a pound or two. He is up to date on his shots, neutered, microchipped and mostly potty trained. He has a clean bill of health from the vet. He is shy when he first meets a new person, but once he warms up to you, heíll be your new BFF! As his name reflects, he is a pint size dude with bat like ears. He is all personality and he uses his ears to demonstrate his mood. He loves to have his ears and neck petted. He was trained not to get up on furniture, but he does like to be held and snuggle. He uses a doggy door to go outside to sit in the warm sun. He is friendly with other small pups and cats. In fact, Batman and his foster momís cat play together just about every evening.


He does have some fears due to being roughed up by small children in his past, so definitely, no children in his new home. He would do best in a quite home, to overcome some fears, with lots of attention and another small dog as a buddy. If I am the man for you please fill out an application donít forget to include my name so they know you want little ole me. Adoption Donation is $550, includes microchip.


Tennessee


Fill out an Application now!


Nuggett / Adoption donation is $800

June 2017
Meet very spoiled Nugget, you may remember him from asking for prayers for his liver shunt surgery. Nugget has done really well since his liver shunt surgery. Unfortunately his 3 month bile acid test still came back high. He shows no signs that there is anything wrong but he will need to be kept on his special diet and lactulose. It is also recommended that he have another bile acid test, one at six months post-surgery (August) and then possibly annually to monitor his levels.


Nugget is an adorable little man who will pull on your heart strings. He has put on some much needed weight and is now 4.04 lbs. He is approximately 3 Ĺ years old. Loud noises, thunder storms and fireworks scare him. Nugget isn't completely house trained and will occasionally hike his leg so he wears a belly band most of the time. He gets along really well with everyone and loves to play with and chase his foster sisters around the house. He is his foster mom's little shadow. Where she is you will find Nugget. His foster mom was busy painting base boards one day so he thought he would climb up her back to be close while she worked. When you talk to Nugget he smiles.
Nugget is now available for adoption. He would do best in a calmer, quieter home with no small children, due to his size, and someone who can spend time with him. If you feel you can provide what Nugget needs please ask for him by name on your application. Nugget is being fostered in East TN. Adoption Donation is $800, includes Microchip.



Fill out an Application now!


Shayna / Adoption donation is $600

June 2017
This beautiful girl is Shayna. She is 3 1/2 years old and weighs 11 lbs 10 oz. Shayna is a lovable lap dog that gets along well with the other fur kids in her foster home. Shayna is not completely house trained but her foster mom has been working with her and she is doing really well. She has been sleeping in her crate at night and it's funny to watch her burrow and completely disappear under her blanket. Shayna is not a morning dog and it usually takes a bit of coaxing to get her out of bed and come for breakfast.


Shayna has been spayed and is up to date on all her shots. She will be ready for adoption once she has been micro chipped. If you are interested in this sweet girl please ask for her by name on your application. Shayna is being fostered in East TN. Adoption Donation is $600, includes microchip.